---
Chinese New Year 2022 Upon Us: Got Year-Long Good Luck in Water Tiger Year!
Written by Roneel Narayan on February 1, 2022
Happy Chinese New Year, also known as Lunar New Year or Spring Festival. Chinese New Year or Lunar New Year 2022 falls on Tuesday, February 1st, 2022, starting a year of the Tiger.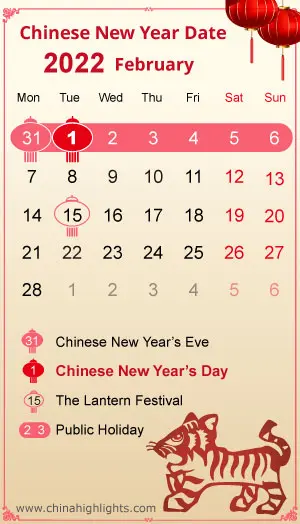 The date of Chinese New Year changes every year, but it always falls between January 21st and February 20th. The date is decided by the Chinese Lunar Calendar, which is based on cycles of the moon and sun and is generally 21–51 days behind the Gregorian (internationally used) calendar.
Celebrations of Chinese New Year traditionally last for 16 days, starting from Chinese New Year's Eve to the Lantern Festival. In 2022, that is from January 31st to February 15th.
As a public holiday, Chinese people get 7 days off from work from January 31st to February 6th in 2022.
2022 is a Year of the Tiger according to the Chinese zodiac. The 12 animals consist of Rat, Ox, Tiger, Rabbit, Dragon, Snake, Horse, Goat, Monkey, Rooster, Dog, and Pig.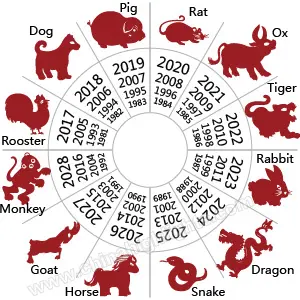 More specifically, 2022 is a Year of Water Tiger, starting from February 1st, 2022, and lasting until January 21st, 2023.
Water Tiger comes from Tiger's five elements (Gold, Wood, Water, Fire and Earth). 2022 is the Year of the Water Tiger, which indicates a prosperous year due to the Tiger's auspicious signs (strength, exorcising evils and braveness).
Chinese people believe that what you do at the beginning of a new year will affect your luck in the coming year. Staying up on Chinese New Year's eve (January 31st, 2022) and saying good words to your family/friends like Happy New Year after the clock strikes 12 will certainly bring good luck.
Giving out red packets to kids and elders will help cast away the bad luck (demon Nian) and bring good luck in.
Besides, decorating your house with kumquat trees (symbolizing wealth & good luck), wearing your lucky colour, and eating lucky food like rice dumplings (family togetherness), fried flour-coated peanuts (vitality), walnut cookies (happiness), etc. are popular ways to get lucky.
---
Reader's opinions
---