---
DIY Pumpkin Face Mask
Written by Sneh Chaudhry on November 10, 2021

What does a pumpkin mask do for your face?
Pumpkin delivers fruit enzymes, amino acids, and beta carotene that deeply hydrates the skin. It is a great mask that stimulates collagen productions. Also, the anti-oxidant present in this pumpkin face mask helps to naturally plump the skin and speeds up the regeneration of normal cells. Generally, it exfoliates the skin, removes impurities, dirt, and dead skin cells that deeply hydrate and improve skin health.
The paste of the pumpkin locks in the moisture in the skin to keep an instant glow on the face. The presence of hydroxy acids keeps soothing, smoothing, and brightening your skin if used on a regular basis. After the usage of the mask, it leaves your skin soft, smooth, clear tone, and tight skin.
How to Make Pumpkin Face Mask?
For nourishing and detoxifying tired skin
The precious properties of pumpkin fight against the sun damages and help to remove the tan on your body. Honey locks in the moisture and plumps your skin glow with that apple cider vinegar and raw egg to detoxify skin and remove the inflammation effects.
Ingredients:
Slice of pumpkin
Raw egg
Honey
Apple cider vinegar
How to Make:
The first thing to prepare the pumpkin face mask is to make a smooth paste of a slice of a pumpkin in a food processor. Puree it until it gets smooth and thick paste. Then, add 1 raw egg, ½ teaspoon of honey, and ½ teaspoon of apple cider vinegar. Mix all the ingredients properly. After that, apply the paste to your cleansed face with a clean brush. Leave the mask on for 15-20 minutes and rinse it with cold water.
For Exfoliating Skin
As we all know that, a pumpkin is a great exfoliator. Mixing its paste with brown sugar and other suitable ingredient makes it even best. This is completely natural and it may cause some irritation after applying so do a small patch test before applying.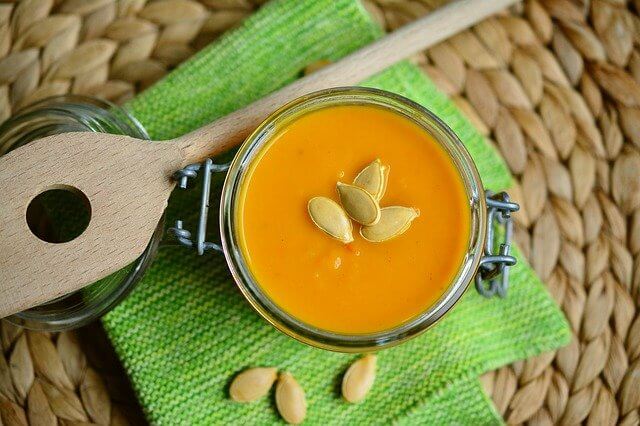 Ingredients:
Pureed pumpkin
Brown sugar
Olive oil
Honey
Vanilla extract
 How to make:
To make a pumpkin scrub, firstly prepare a smooth paste with a slice of pumpkin like before. Adding ½ cup of brown sugar, 1 tablespoon of olive oil, 1 tablespoon of honey, and 2 drops of vanilla extract, mix all the ingredients together. Cleanse the body part where you want to exfoliate, and apply it to the dry skin. Slightly rub the area in a circular motion and later on wash it with lukewarm water. And clean with a soft cloth.
What are the benefits of using a pumpkin face mask? 
Every product or ingredient has its own natural benefits. And also people use the home face mask due to its effective benefits.
Treat Oily Skin
Pumpkin for oily skin? Have you ever tried it? Just mix it with 2 tablespoons of apple cider vinegar and see how it works on your skin. The vinegar helps to eliminate the excess oil of the skin and keep your skin natural and normal.
Treat Dry Skin
Of course, a pumpkin face mask even works for dry skin. We just need to combine the appropriate ingredient with the pumpkin and it started improving our skin conditions. To deal with dry skin, mix boiled pumpkin, whipped cream, and honey together and apply.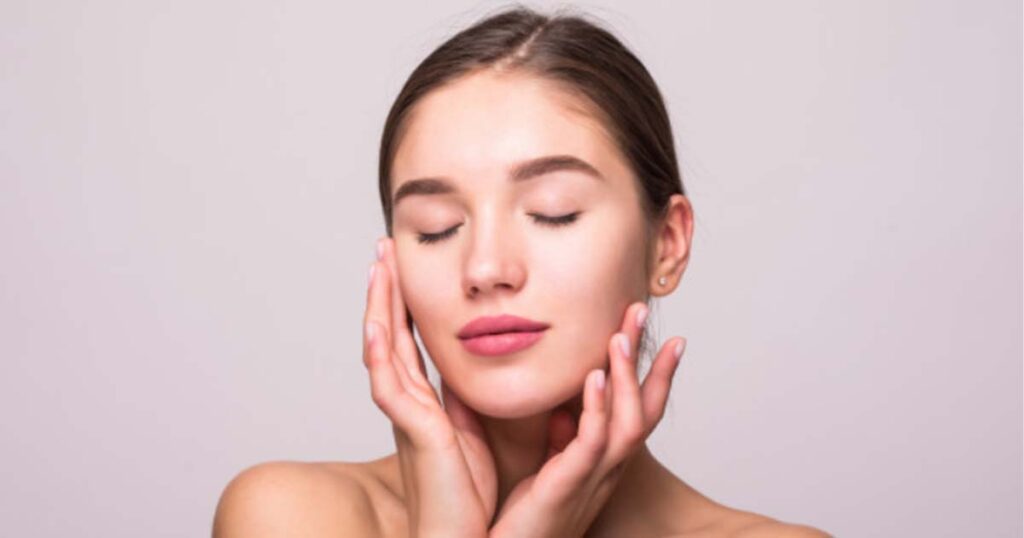 Exfoliate your skin
The puree of pumpkin has a great exfoliator property. This exfoliator pumpkin face mask helps to pull off the dirt, dead skin cells, and impurities. It even helps to remove the blackhead that appears on the surface of the skin.
Anti-aging Benefits
The powerhouse of anti-oxidant and a good source of vitamin C in a pumpkin can simply prevent the UV rays damages. The appearance of beta-carotene improves our skin texture and also promotes collagen production which leads to tightening the skin. From improving the skin tone to reducing wrinkles, fine lines, and elasticity, it even protects our skin from radical damages.
Treatment of Dark Patches and Acne
A pumpkin face mask is a good source of niacin, riboflavin, B6, and folate. It is very beneficial and effective to fade away dark spots and dark patches as well as acne appearance. The marks by acne and other dark patches could be removed from the face by mixing the puree of pumpkin with vitamin E oil and lemon juice.
How often should you use a pumpkin mask?
Unlike your skincare routine parts, home remedies and face masks take too much time to work on your skin, it doesn't produce long-term results. However, using them on a regular basis can add an extra glow to your face as well as soothe all the inflammation effects or irritations. Everyday usage is not also good because your skin needs to breathe. So that, these pumpkin face masks should be used twice a week. After cleansing your face and before moisturizing it, use it in the evening time for optimal exfoliation and brightening.
For flawless and clear skin, everybody should try the home remedy face mask. These pumpkin face masks may actually help you to maintain the condition of your skin.
Source : allbeautyhacks.com
Stay tuned to Mahekta Aanchal from 9am to 2pm on Radio Sargam with your Show host Sneh Chaudhry on 103.4FM in Suva to Nausori Corridor, Central Division, Nadi, Lautoka & Labasa, 103.2FM in Sigatoka, Coral Coast, Ba, Vatukoula, Tavua & Savusavu and 103.8FM in Rakiraki.
---
Reader's opinions
---