---
TOMATO BENEFITS FOR SKIN: WAYS TO GET THE HEALTHIEST SKIN EVER
Written by Angie Sharma on January 6, 2022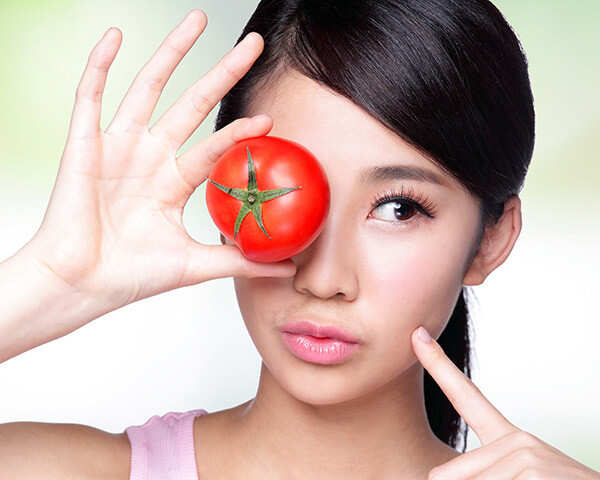 1. Reduce excessive oil
While tomato benefits the skin in a number of different ways, this one is the most popular. Excessive oil production is a common concern among those with oily and and acne It can hamper the overall appearance as well as make it difficult to keep your makeup in place. If you are tired of blotting oil from your face, try this natural method that involves the use of tomatoes.
How to use:
Cut a tomato into half and rub it all over the face.
Let it rest for 10-15 minutes and then wash off to get smooth, soft and matte-looking skin.
With regular use, it will address the problem of excessively oily skin and balance your skin's natural pH level.
2. Removes dead skin
Our skin attracts dirt, oil, pollution and other harmful things from the environment and this makes your skin appear dull and uneven over time. Regular cleansing is not enough to get rid of this dirt because it gets trapped into the pores of the skin. The enzymes in tomatoes mildly exfoliate the skin by removing the top layer of dead cells
How to use:
While you may have heard about mixing sugar with tomato pulp and applying the mix on your skin, we suggest you only use this as a body scrub.
The skin on your face is sensitive and can get easily irritated by the sugar granules.
You can apply the pulp as it is, to reap the benefits of tomato for the facial skin.
3. Prevents acne
Acne is a common concern among teenagers and adults, while getting to the root of the problem is important, sometimes something as simple as the benefits of tomato can be employed to get rid of it. Tomato contains deep cleansing agents and as mentioned above, it also corrects the skin's pH levels, therefore it can very well prevent acne.
---
Reader's opinions
---