---
Happy Basant Panchami 2022 to you
Written by Sneh Chaudhry on February 5, 2022
Vasant Panchami day is dedicated to Saraswati, the Goddess of knowledge, music, arts, science and technology. Goddess Saraswati is worshipped on Vasant Panchami day. Vasant Panchami is also known as Shri Panchami and Saraswati Panchami.
People worship Goddess Saraswati to get enlightened with knowledge and to get rid of lethargy, sluggishness and ignorance.
Many astrologers consider Vasant Panchami as Abujha (अबूझ) day which is auspicious to start all good work. According to this belief whole, Vasant Panchami day is auspicious to perform Saraswati Puja.
Although there is no special time to perform Saraswati Puja on Vasant Panchami day one should make sure that Puja is done when Panchami Tithi is prevailing. Many times Panchami Tithi doesn't prevail the whole of the day on Vasant Panchami day hence we believe that it is important to do Saraswati puja within Panchami Tithi.
Saraswati Vandana
Saraswati Ya Kundendu is the most famous Stuti dedicated to Goddess Saraswati and part of the famous Saraswati Stotram. It is recited during Saraswati Puja on the eve of Vasant Panchami.
या कुन्देन्दुतुषारहारधवला या शुभ्रवस्त्रावृता।
या वीणावरदण्डमण्डितकरा या श्वेतपद्मासना॥
या ब्रह्माच्युत शंकरप्रभृतिभिर्देवैः सदा वन्दिता।
सा मां पातु सरस्वती भगवती निःशेषजाड्यापहा॥१॥
शुक्लां ब्रह्मविचार सार परमामाद्यां जगद्व्यापिनीं।
वीणा-पुस्तक-धारिणीमभयदां जाड्यान्धकारापहाम्‌॥
हस्ते स्फटिकमालिकां विदधतीं पद्मासने संस्थिताम्‌।
वन्दे तां परमेश्वरीं भगवतीं बुद्धिप्रदां शारदाम्‌॥२॥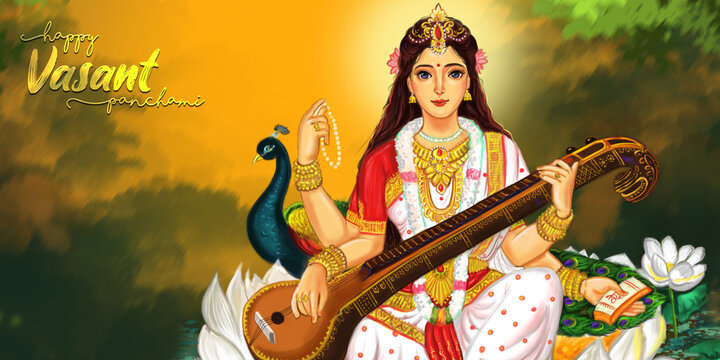 Source: drikpanchang.com
---
Reader's opinions
---