---
Largest Display of Oil Lamps (Diya)
Written by Rashna Sharma on November 19, 2023
A beautiful celebration for Diwali has broken the record for the largest display of oil lamps. The title has been claimed once more by the Department of Tourism, Government of Uttar Pradesh, District Administration, Ayodhya and Dr. Rammanohar Lohia Avadh University (India). Their last record of 1,576,944 oil lamps was only set last year. This time, the amount has increased to 2,223,676 oil lamps, and these were displayed on the eve of Diwali, the annual Hindu festival of lights celebrated by Hindus, Sikhs and Jains around the world. Traditionally, celebrants lit oil lamps in their homes and places of worship to welcome the religious holiday.
The oil lamps used were diyas, rounded clay lamps with cotton wick. These lights symbolize the spiritual victory of light over darkness, good over evil, and knowledge over ignorance. These institutions are no strangers to this feat, having also broken the record back in November 2021 with 941,551, steadily increasing the number of oil lamps throughout the years. The attempt took place once again in Ayodhya which is said to be the birthplace of the Hindu God Ram.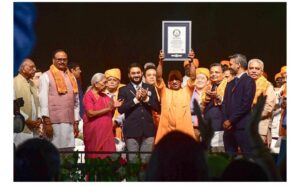 With this record being broken every year for the past six years, including earlier this year, we're sure we'll see an even larger display next year!
(Source: Guinness World Records)
---
Reader's opinions
---