---
World's Oldest Motorcycle Racer.
Written by Rashna Sharma on September 16, 2023
Leslie Harris (New Zealand) is living fast, but he's not dying young.
Earlier this year, at the age of 97 – three weeks before his 98th birthday – Les raced at the Pukekohe 43rd Classic Motorcycle Festival in Auckland, making him the world's oldest competitive motorcycle racer.
Les competed alongside his eldest son, Rod, aged 64, and his 21-year-old granddaughter, Olivia.
They all rode in the Regularity race, in which the aim is to perform the most consistent lap times.
Les had previously won this event in 2019, aged 93, however, he faced several setbacks which prevented him from competing again until this year.
Firstly, he underwent a hip replacement soon after his 2019 victory, which kept him from riding in other events for several months.
He then entered the 2020 Classic Festival to defend his title, however, he unfortunately injured himself at the event and was unable to compete. While mounting his motorcycle for a qualifying race, the bike slipped off the roller starters, resulting in Les falling off and breaking six ribs.
Les luckily recovered without suffering any permanent damage, however, no events were held during the following two years due to COVID-19 restrictions.
Thus, the 2023 festival at Pukekohe Park Raceway was an extra special edition for Les, as it had been a long time since he'd been able to race, not to mention the fact that he was competing alongside his family members for the first time.
Les is planning to enter more events this year, and he's also eagerly awaiting the 44th Classic Festival, which is due to be held in February 2024 at the new venue of Manfeild Circuit Chris Amon, in Feilding.
(Source: Ginness World Records)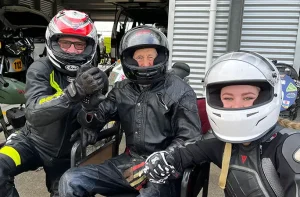 ---
Reader's opinions
---