---
5-MINUTE NACHO CHEESE SAUCE RECIPE
Written by Sneh Chaudhry on May 23, 2023
The nacho cheese recipe below is the very basic version of nacho cheese, which you can customize or embellish in many different ways.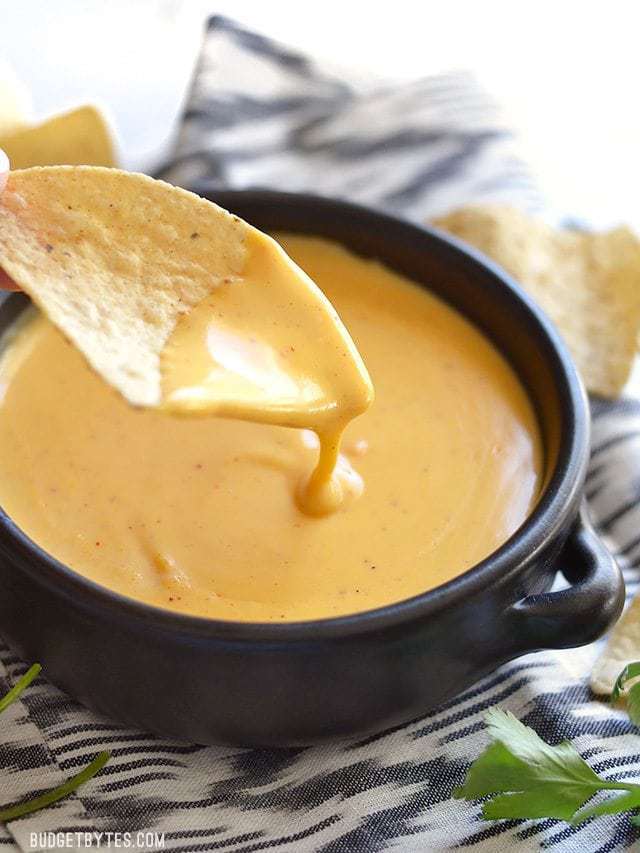 INGREDIENTS
2 Tbsp flour 

 

1 cup whole milk 

 

6 oz. medium cheddar, shredded (about 1.5 cups) 

 

1/4 tsp salt 

 
INSTRUCTIONS 
Add the butter and flour to a small sauce pot. Heat and whisk the butter and flour together until they become bubbly and foamy. Continue to cook and whisk the bubbly mixture for about 60 seconds.

 
Whisk the milk into the flour and butter mixture. Turn the heat up slightly and allow the milk to come to a simmer while whisking. When it reaches a simmer, the mixture will thicken. Once it's thick enough to coat a spoon, turn off the heat.

 
Stir in the shredded cheddar, one handful at a time, until melted into the sauce. If needed, place the pot over a

low

flame to help the cheese melt. Do not overheat the cheese sauce.

 
Once all the cheese is melted into the sauce, stir in the salt and chilli powder. Taste and adjust the seasoning as needed. If the sauce becomes too thick, simply whisk in an additional splash of milk.

 
Source: budgetbytes.com
---
Reader's opinions
---