---
American cow performs 10 tricks in 60 seconds to set world record
Written by Rashna Sharma on June 24, 2023
The giraffe is the world's tallest living animal, with an adult male Giraffa Over the years, many animals have broken world records by performing tricks.
However, for the first time ever, a cow has joined their ranks.
Ghost, a four-year-old Charolais cow owned by Megan Reimann from Nebraska, USA, has set a new record for the most tricks performed by a cow in one minute, achieving a total of 10.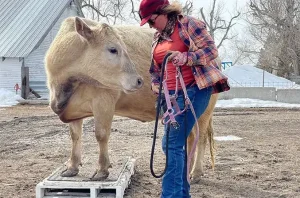 Here are all the tricks that Ghost performed during her record attempt:
Stay in place

Come when called

Self-roping

Spin

Bow

Stand on a pedestal

Fist bump/leg lift

Bell touch

Kiss

Head nod
According to Megan, Ghost can perform a "large and ever-growing" number of tricks, including the ability to distinguish between different colours!
The first trick Ghost learnt was how to spin. Megan continued training her brilliant bovine and steadily built up her bank of tricks.
However, it never crossed Megan's mind that Ghost could earn a Guinness World Records title, until one day she came across an article on our website about Joy the pig.
(Source: Guiness World Records)
---
Reader's opinions
---