---
Delicious Sweet Potato Recipe
Written by Sneh Chaudhry on February 28, 2023
Here's a mouth-watering recipe for a fun twist on the Hasselback potato that the whole family is bound to love. Instead of the boring ol' household potato sliced open and dressed with salt and pepper (maybe a few herbs if you're feeling daring!), this recipe uses sweet potatoes and features a maple and pecan dressing.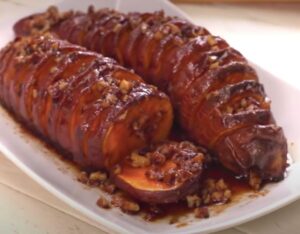 What you'll need:
2 sweet potatoes (or as many as you want!)

1 cup melted butter

2 tbsp ground cinnamon

1/2 cup chopped pecans

1/2 cup maple syrup

1 tbsp vanilla extract

1 tbsp salt
Then, get slicing!
Place a chopstick on either side of your sweet potato. This will stop your knife from cutting all the way through the potato, giving it that "spine" which keeps all the slices connected. Place each cut approximately half an inch Apart.
Flip it well!
To make sure that you keep the slices a consistent distance apart, you may have to turn your sweet potato around to cut it evenly. Make sure those chopsticks don't go rolling away!
Preheat your oven before you dress your taters.
Preheat your oven to 425° F (220° C), and you'll be off to a head-start. Then, lay your cut potatoes gently into an oven-safe dish.
Olive this part!
Give your taters a healthy coat of olive oil and brush the oil over the surface. This will help the potatoes to get that crispy texture we love so dang much, while the inside will still remain soft and fluffy.
Next, it's time to season and bake.
Sprinkle a pinch of course rock salt over the surface of your sweet potatoes. Once you've done this, pop the dish into the oven and bake for 30-40 mins.
While your sweet potatoes bake, prepare the dressing.
Gather your cinnamon, pecans, maple syrup, vanilla extract, salt and butter. Melt your butter, then add the rest of the ingredients before mixing them all together well. You may want to prepare this when there are only a few minutes left on your oven timer so that the melted butter remains in liquid form when those potatoes come out.
Get dressed already!
Dress the sweet potatoes with your mixture, making sure to get the dressing not just on top but inside the gaps. This will infuse the entire potato with delicious sweet flavours, and add the crunchy pecan texture to the softer inside of the potatoes.
Baking, round two!
Put your potatoes back into the oven to bake for another 8-10 minutes. When they're done, pull them out and let them cool before serving. Warning: Once you start eating these, you will not be able to stop!
Join Sneh Chaudhry in Mahekta Aanchal from 9 am to 2 pm on Radio Sargam on 103.4FM in Suva to Nausori Corridor, Central Division, Nadi, Lautoka & Labasa, 103.2FM in Sigatoka, Coral Coast, Ba, Vatukoula, Tavua & Savusavu and 103.8FM in Rakiraki.
---
Reader's opinions
---