---
Extremes of heat and cold hit South and North America
Written by Sneh Chaudhry on February 7, 2023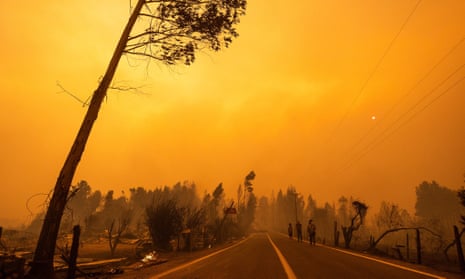 Unrelenting and record-breaking heat is expected to continue across parts of South America this week. Temperatures are forecast to reach the mid-to-high 30s celsius for Chile, Argentina, and Paraguay, with maximum temperatures possibly hitting 40C across northern Argentina.
These temperatures are at least 5-10C above the climatological average, with the extreme heat expected to continue at least until the middle part of February.
Heat in this area of the world has already caused the deaths of at least 23 people with at least 39 wildfires raging across Chile.
Low relative humidity of 20-50% and no sign of any significant rainfall in this region have exacerbated the risk of wildfire spread, with at least 40,000 hectares of land already being damaged.
Meanwhile, parts of Europe such as the Balkans, Greece, and Turkey will plunge into a cold spell this week, with temperatures forecast to fall 10-15C below the seasonal average.
Minimum temperatures will plummet to between -10C and -20C, with the coldest temperatures looking to be around the Dinaric Alps during the middle part of this week.
Turkey will be hit with strong winds and heavy snowfall too, with maximum snowfall accumulations of more than a metre across the Pontic Mountains in the north of the country during the first part of this week. Turkish Airlines has already cancelled 240 domestic and international flights out of Istanbul airport to prepare for the incoming cold weather.
A severe cold snap affected Canada and northeastern parts of the US last week. The dangerously low temperatures and strong winds triggered threat-to-life warnings in several states, with officials cautioning that hypothermia and frostbite could set in within minutes. A number of cities also opened warming centres to safeguard the homeless.
Story Credit: theguardian.com
Join Sneh Chaudhry in Mahekta Aanchal from 9 am to 2 pm on Radio Sargam on 103.4FM in Suva to Nausori Corridor, Central Division, Nadi, Lautoka & Labasa, 103.2FM in Sigatoka, Coral Coast, Ba, Vatukoula, Tavua & Savusavu and 103.8FM in Rakiraki.
---
Reader's opinions
---