---
Shamshera Trailer Launch: "Sanjay Dutt would also ask me, 'Tu abhi Barfi kar raha hai. What is your next film then? Peda? Laddoo?'!" – Ranbir Kapoor
Written by Swaati on June 24, 2022
Ranbir Kapoor's bond with Sanjay Dutt is quite known. The former has often spoken about his love for the latter. Ranbir in fact even played Sanjay Dutt in his biopic, Sanju (2018). It was Ranbir's last release, and now he will be seen in Shamshera, in which the antagonist is none other than Sanju Baba. At the trailer launch of the film, Ranbir Kapoor talked highly of Sanjay Dutt and shared a hilarious anecdote.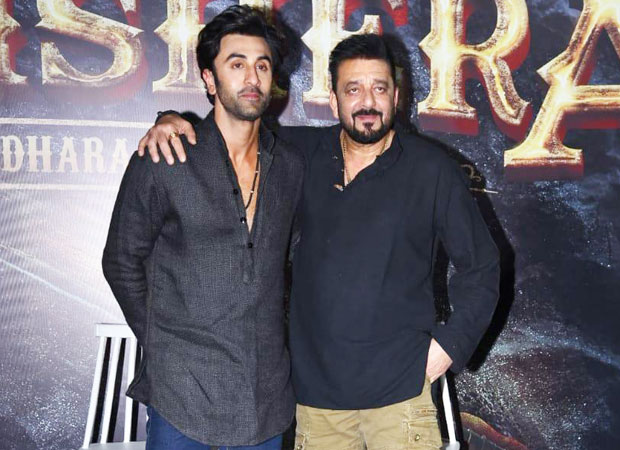 Ranbir Kapoor said, "The man standing next to me has been my first idol, my first hero. I had his poster in my room (while growing up). I got to know him as he's family friend. Then I got to portray him and finally, I got to fight with him when he played my nemesis (in Shamshera). The journey has been unreal. He treats me like a son, friend and a brother. He calls me and he shouts at me if I am doing bad films!"
Ranbir Kapoor then revealed, "When I was working in Barfi (2012) and Rockstar (2011), I used to work out in his gym. He used to tell me, 'Tu do saal se yahan gym kar raha hai. Par teri body kahan hai?'! He would also ask me, 'Tu abhi Barfi kar raha hai. What is your next film then? Peda? Laddoo?'!"
Ranbir Kapoor continued, "So he used to insist that I should do larger than life films or films or films that entertain a larger audience. I really hope that Shamshera is a positive step towards that direction."
Sanjay Dutt meanwhile said, "I am happy that Ranbir is doing Shamshera. I was waiting to see him in a film like this. And I hope he keeps doing it." Sanjay Dutt then also quipped that he'll make sure Ranbir Kapoor does more of such films. "Ab toh main iske peeche pad jaunga!," he said.
Besides Ranbir Kapoor and Sanjay Dutt, Vaani Kapoor and director Karan Malhotra were also present at the trailer launch.
---
Reader's opinions
---