---
Things That Make Us Look Older
Written by Sneh Chaudhry on August 23, 2022

Perhaps you don't want to look younger but most of us certainly don't want to appear older. I'd like to think that most of us want to appear youthful and hip.
Let's look at some examples of what can date us or make us appear older and how to fix it.
Too Much Or The Wrong Color Makeup.
As we get older, our colouring softens and dark or bright colours that once worked for us may overwhelm us now. Know which colours suit your skin tone.
If you don't know if you are warm or cool then go to a make-up counter and try on yellow and blue-based lipstick and blush colours to see what suits you best.
How To Look Younger: Change Your Make-Up Routine
Consider what decade you learned to apply makeup. If you still use those techniques and colours, it is time to update.
Here are some changes to think about:
How To Look Younger Naturally: Don't Wear Too Much Eyeliner
Rather than liquid eyeliner, try an eye pencil and smudge a bit after application to soften the line. Or apply eye shadow with a small angled brush as the liner.
Don't Match Your Eye Shadow Color To Your Outfit
We're not in the 1980s anymore. Go for a softer, natural look and avoid shimmer as this will magnify any creepiness.
Look Younger By Saying No To Thick Full Coverage Foundation
Consider a tinted moisturizer or a lighter-weight foundation and apply only to the centre of the face and blend outwards.
Avoid Too Dark Or Matte Lipsticks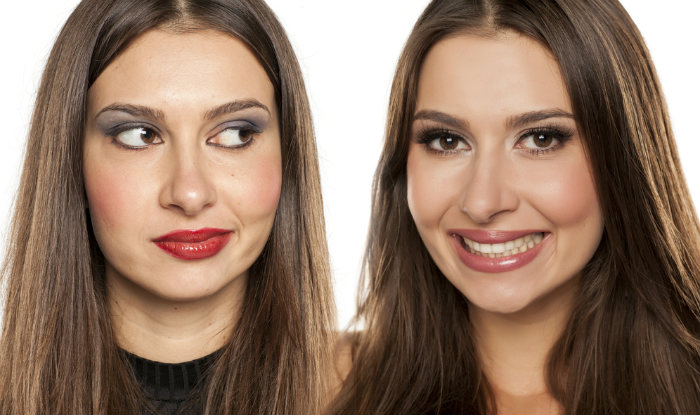 Our lips are thin with age and dark or matte colour will make lips look even thinner.
Try a crème or pearl colour and rather than dark go for a brighter or Lighter colour.
How To Look Younger At 40 Or Beyond: Stay Away From Too Dark A Lip Liner
Lip liners should match the lipstick colour. You don't want an obvious line around your lips, but a lip liner can be a valuable tool to prevent lipstick from bleeding into fine lines.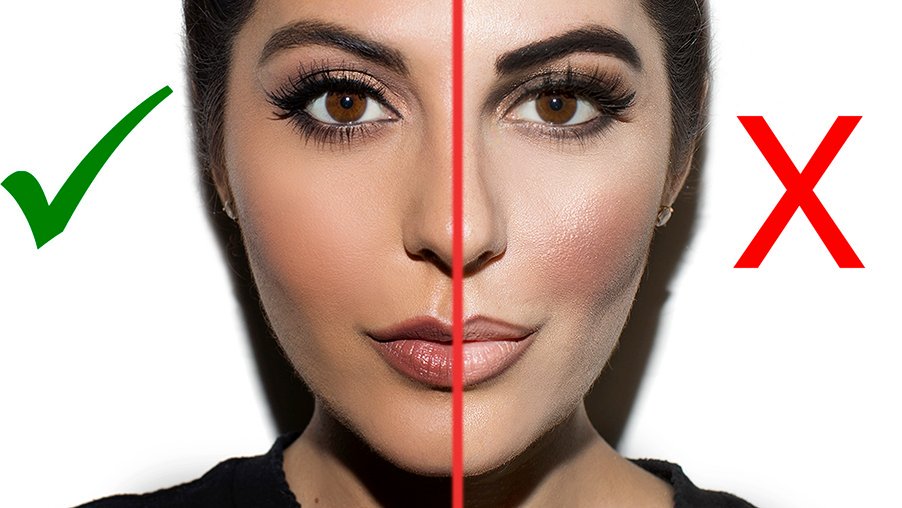 Emphasizing Eyes AND Lips
 As with clothes, choose one star and the rest as supporting players.
If you are wearing dramatic lipstick, keep the blush and eye shadows softer.
Too Much Blush And In The Wrong Area
Apply sparingly along the cheekbone and blend, blend, blend.
2. Eyeglasses Or Sunglasses That Are Years Old Or No Longer Fashionable.
Eyeglasses and sunglasses follow trends just as fashion does and should be considered just as necessary to update.
If you have prescription glasses a good reminder to change is when you get a new prescription.
If you have changed your hair colour or if you go grey, you may want to consider a lighter colour or a silver frame.
An easy and inexpensive way to modernize your style is to pick up a few pairs of sunglasses. Perhaps a sportier and elegant pair for different outfits.
Consider your face shape, skin tone and personality when selecting glasses. Our face shape and colouring will change with age, so you may need to select a different frame shape and colour now.
Hairstyle Or Hair Colour That Hasn't Changed In Years.
How long is too long to keep the same hairstyle or colour? Seriously, if your hairstyle is from another decade, it's time to change.
Our hair changes with age. It may get thinner, coarser, less curly or frizzier. Our face shape may also change, so a hairstyle that suited us in our 30s may not be the most flattering in our 50s.
Join Sneh Chaudhry in Mahekta Aanchal from 9 am to 2 pm on Radio Sargam on 103.4FM in Suva to Nausori Corridor, Central Division, Nadi, Lautoka & Labasa, 103.2FM in Sigatoka, Coral Coast, Ba, Vatukoula, Tavua & Savusavu and 103.8FM in Rakiraki.
---
Reader's opinions
---