---
TRIVIA TUNES: Farah Khan's apology to Anu Malik, Shreya Ghoshal's Kismet Konnection with Sanjay Leela Bhansali, and 8 other stories from the world of music
Written by Swaati on February 9, 2022
Music is an integral part of the Indian film industry and possibly one of the most distinguishing factors that set it apart from world cinema. While our music continues to help people tap onto their emotions, there are several stories about these songs and their creators that will astonish you and some that will add on to the experience you get each time you tune into your favourite music.
So, here's us, at Bollywood Hungama, bringing to you some of the lesser-known facts of the world of music-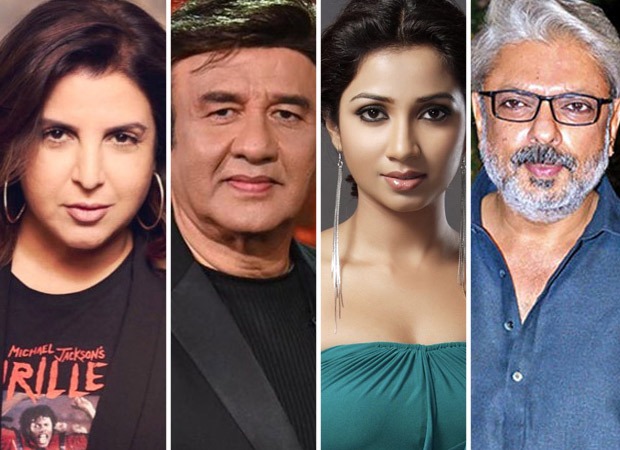 The song 'Chhodo Kal Ki Baatein' went uncredited in Sooryavanshi. Here's why-
The most curious part of Sooryavanshi was that though they used three re-created songs in it, the best of them was never credited in the titles: Usha Khanna's 'Chhodo kal ki baatein' from Hum Hindustani, composed by Usha Khanna and written by the late Prem Dhawan. This Mukesh-rendered classic was re-designed by Tanishk Bagchi, including the add-on lyrics. The most logical reason seems to be that the film was released 61 years prior to the film, because after 60 years, the intellectual property rights do not remain with the creators. However, the creators, we feel, do need credit for their work, if not cash!
Farah Khan apologized to Anu Malik for "unmusical film title"- Main Hoon Na
Farah Khan had gone to Anu Malik when she planned to turn director with Main Hoon Na and apologized, to begin with, for her "unmusical film title" as she needed a title song for it. Anu disagreed with her and struck the notes we now know on his harmonium immediately, and hummed out the first line of the tune with the words 'Main hoon na' at the end!
Believe it or Not- The secret to Rajesh Khanna's hit songs was a good night's sleep
Rajesh Khanna was known to sleep over compositions planned for him and approve a tune by his composers only if he remembered it after two or three days. And that, perhaps, explains the huge percentage of hit songs he had.
When Naushad's father lied about his profession to his in-laws and his music redeemed him on his wedding day
Naushad's father had told his prospective father-in-law that his son was a tailor in Mumbai, as film people were looked down upon. During the composer's wedding in 1944, Naushad let on smilingly that the band was playing several hits from his own Rattan. But soon, his father-in-law came to know the truth and developed high regards for him.
Shreya Ghoshal's 'Kismet Konnection' moment with Sanjay Leela Bhansali changed her life forever
When Sanjay Leela Bhansali hunted for the voice he had heard on the TV show SaReGaMaPa and located her, he called her for an audition. On that day, as an old music buff, he had been humming 'Jeevan dor tumhi sang baandhi' from Laxmikant-Pyarelal's Sati Savitri. When she met him, he asked her to sing any Lata Mangeshkar song—and uncannily, she began with the same number. That clinched her fortune, and he gave that major break in Devdas to Shreya Ghoshal.
Subhash Ghai penned lyrics for Saira Banu's show Duniya Ke Sitare and the song 'Kabhi Paa Liya'
Those surprised by Subhash Ghai's simultaneous debut as composer and lyricist with 36 Farmhouse are not aware that he has composed and written songs for several short videos commissioned by the Indian government on many social issues. As a lyricist, he had started out with the title track of Saira Banu's chat show on TV, Duniya Ke Sitare in 1998 (composed by Jatin-Lalit). He then penned the Usha Uthup-rendered Tabun composition, 'Kabhi paa liya' for his own production, Jogger's Park (2003).
Mohammed Rafi once sang his own song outside a temple to help a beggar collect alms
Mohammed Rafi was taking a walk in Kolkata, where he had gone for a show in the 1950s. He found a beggar singing his devotional song 'Aana hai to aa' from Naya Daur next to a temple on the single-stringed instrument, iktara. Rafi sat next to the mendicant and took the instrument from him and began singing it. After about 20 minutes, he handed over the iktara to the beggar and walked away. By that time, the beggar's blanket on the road was heavy with coins!
In 'Hum Tumhe Chahate Hain Aise', Shakti Samanta's loss was Feroz Khan's gain-
Indeevar had offered the lyrics 'Hum tumhe chahate hain aise / Marnewala koi zindagi chahta ho jaise' to filmmaker Shakti Samanta for Anand Ashram. This was because the hero of the film was a doctor who saved patients' lives. The filmmaker was not impressed and rejected it. Feroz Khan loved the song and got it into Qurbani, as the hit song composed by Kalyanji-Anandji that we all know.
When Salman Khan chose Sajid-Wajid over A.R. Rahman for Veer
A.R. Rahman was originally considered for the music of the 2010 costume spectacle Veer. But Salman Khan is rumoured to have insisted on Sajid-Wajid, who ended up composing, arguably, their career-best score for it.
The Forgotten Compositions
Director Lekh Tandon revealed that during Amrapali, a producer came and halted the song recording as the tune had been "promised" to him by the composers. Lata Mangeshkar, Shailendra and Shankar-Jaikishan went for a short ride in the car to refresh themselves and came back with a fresh idea and tune that was immediately set, rehearsed, and recorded. Sadly, the late octogenarian filmmaker could not recollect the two compositions, including which one it was from among the five immortal Lata perennials in his film.
---
Reader's opinions
---