---
10 Beauty Tips for Women Who Work in Front of Computer All Day
Written by Sneh Chaudhry on May 18, 2022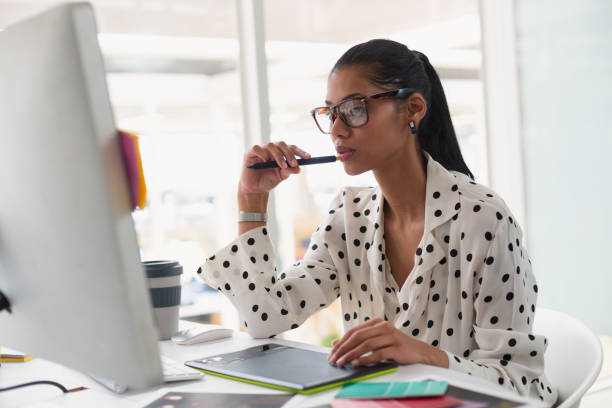 Radiations doing their job on our skin!
The main reason for the negative influence on the face skin is an electrostatic field and free radicals around the computer. The electrostatic field affects the acid-base skin balance causing irritation. As for free radicals, they lead to premature skin ageing. No matter what type of skin you have, its condition deteriorates significantly.
The computer can seriously hurt the human skin and cause various skin problems, such as decreasing brilliance.
Many times we have noticed that even though we do everything possible to make our skin look bright it just doesn't! Yes, it is the radiation working on your skin.
Pigmentation is one common issue among most of us. This pigmentation can occur due to the sun and computer radiation.
Noticing dark circles? Yes, welcome to the world of technology.
Again fine lines, wrinkles, yes these are caused due to ageing as well, but if you are ageing faster, well you can thank your computer!
Skin peeling and becoming dry is also one of the side effects of these radiations.
1. Wear SPF
Wearing SPF is very important when you sit in front of a screen like that. The sunscreen helps to prevent the harmful rays radiated by the laptop screen. Even if you are working from home, wearing an SPF 30 is a must. Also, keep reapplying the SPF after every 2-3 hours.
2. Take Beauty Breaks
Take a 10-15 minutes break in between your work. This won't allow the radiation to damage the skin continuously. Also, do a few things that can be done by pen or paper, do that instead. Read a book instead of reading a PDF. Maybe you cannot prevent the damage completely, but you can definitely minimize it.
3. Use a Toner
Your skin gets dehydrated when you work in front of a computer for a long. So, using a toner to revive the skin is a must. It is better to use an alcohol-free toner. Use it before applying the sunscreen in the morning and also at night after you get back from work. As the skin gets dry, you can also use a hydrating gel on your face as a pack to replenish the hydration.
4. Anti-Ageing Products
Your skin starts to age faster when you expose it to laptop and computer radiation. Fine lines and wrinkles appear faster than they should. To prevent this, you must start using anti-ageing products sooner in such cases. If not all, try to add one or two anti-ageing products to your skincare routine. This will help you to keep your skin younger for longer.
5. Antioxidant Rich Moisturizer and Serums
Your skin deserves the goodness of antioxidants to fight radiation damage. Try to use good quality, antioxidant-rich serums and moisturizers for the night. These products will pamper your skin overnight and make it glow in the morning.
6. Massage the Face
When you sit in front of the computer for a long, your skin gets tired and dull. To rejuvenate it, you need to improve circulation. Nothing works better than a good massage for this purpose. Use a good gel or cream-based product to massage the face. You can also use a roller massager to massage the face. It relaxes the skin and also improves circulation.
7. Apply Ice
Applying ice all over the face is another great way to relax and cool the stressed skin. You can directly apply ice on the face or wrap it up in a soft cloth and apply it. This cools down the skin and also gives a soothing sensation. It is an amazing way to combat the tiredness induced by the computer screen.
8. Cucumber on Eyes
Along with your skin, your eyes are also badly affected by this process. It often looks droopy and tired. To calm down any irritation and relax the eyes, applying sliced cucumber is a great solution. You can also try applying sliced potato. The juices soothe the skin around the eye and help to remove the darkness.
9. Eye Cream
Applying under eye gel or cream is also very important. Sitting in front of a computer can give you dark circles easily. Do add a good quality eye cream to your skincare routine to combat this problem.
10. Eat Right
Keeping your skin ready to fight the damage from inside is very important. Add antioxidant-rich foods to your diet. Eat a lot of fresh vegetables and fruits every day. Also, try to drink detox drinks and green tea along with lots of water. This will keep your skin guarded against the damage in the longer run.
Source: makeupandbeauty.com
Stay tuned to Mahekta Aanchal from 9 am to 2 pm on Radio Sargam with your Show host Sneh Chaudhry on 103.4FM in Suva to Nausori Corridor, Central Division, Nadi, Lautoka & Labasa, 103.2FM in Sigatoka, Coral Coast, Ba, Vatukoula, Tavua & Savusavu and 103.8FM in Rakiraki.
---
Reader's opinions
---