---
Chop Suey is a vegetable dish composed of assorted vegetables cooked down in a thick, gravy-like sauce. It usually contains pork, shrimp, and often even boiled quail eggs. This Chop Suey is a vegan take on the Filipino-Chinese classic that we'd often have at home. It's a great way to use up leftover veggies and is easily customisable depending on what you have.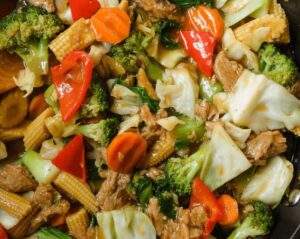 INGREDIENTS
Vegetables and Protein
2

 

tbsp oil

1

 

small white onion

 

sliced into squares

1

 

small carrot

 

peeled and sliced

2

 

cups

 

broccoli florets

1/4

 

cup

 

water or vegetable broth

 

to cook down broccoli and carrot

220

 

g

 

vegan protein of choice

 

I used rehydrated soy chunks (see notes)

1/4

 

large head of cabbage

 

sliced

2

 

small heads of bok choy or other leafy greens

 

sliced

2

 

cloves

 

garlic

 

minced

1

 

small red bell pepper

 

sliced into squares

1 

can young corn

 

sliced
Sauce
Corn Starch Slurry
To Season
To Serve
INSTRUCTIONS
Prepare the vegetables of your choice. You'll want to start with the vegetables that take longer to cook. In this case, I started with my carrot and broccoli since these take longer to cook down.

Sauce: Mix the sauce together in a medium bowl. Set aside.

Surry: Mix the water and starch in a small bowl until diluted. Set aside.

To Cook:

Heat a large pan or wok over high heat. Once hot, add in neutral cooking oil. Sauté the garlic and onion until translucent & aromatic, around 1 minute. Add in the carrot and broccoli. Over medium to medium-high heat, add the water/broth and then cover the pan or wok to allow these to cook in the steam. Leave for around 3-4 mins or until the carrot and broccoli are half-cooked.

Add in the cabbage, bok choy, bell pepper, young corn, and other veggies of choice. Stir-fry these over high heat for 1-2 minutes. You'll want to get the veggies crisp and tender without releasing much liquid.

Protein: You can add a little more oil and then stir-fry the vegan protein of choice. You can also season this with some soy sauce or veg oyster sauce. Cook for 1-2 minutes. If using tofu, see the notes below.

Afterwards, lower the heat to medium. Mix the sauce again then pour it in vegetables.

Leave the sauce to a boil over medium heat. Once it boils, give the cornstarch slurry a good mix then pour it into the pan. This will help thicken the sauce.

Mix the veggies well to coat in the sauce. Taste the veggies and feel free to season with more soy sauce/vegetarian oyster sauce and salt + pepper to taste.

Turn off the heat. Serve and enjoy with some steamed rice or noodles.
NOTES
PROTEIN
TOFU: You can also use extra firm tofu or tokwa. If using tofu, make sure to press these well and then slice them into strips or cubes. You can pan-fry these beforehand or pan-fry these in the same wok/pan as the vegetables.

MUSHROOMS: Another good sub for protein is some sliced shiitake mushrooms or other mushrooms of choice. You can use any type of mushrooms, really.
Source: thefoodietakesflight.com
---
Reader's opinions
---