---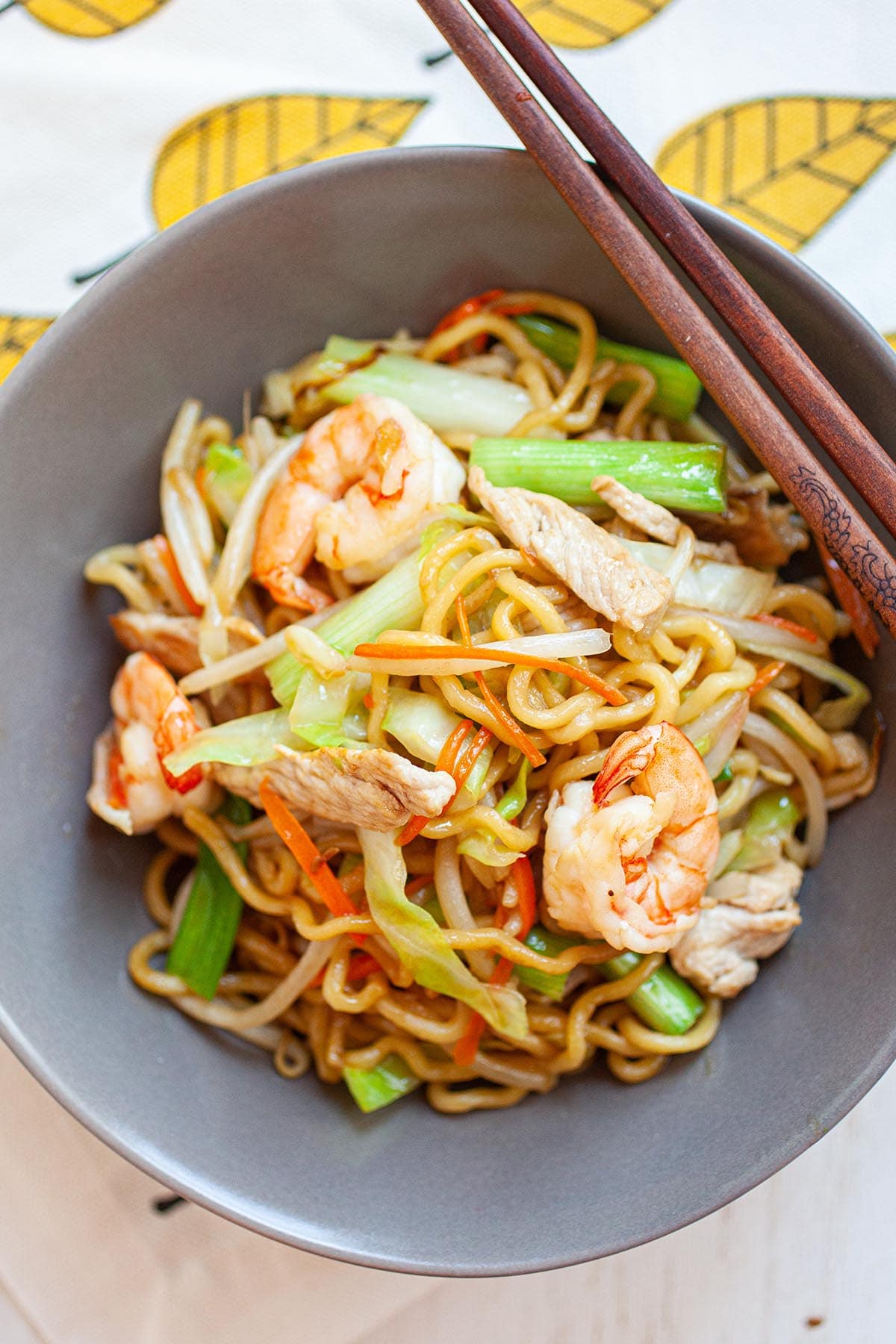 Easy Chow Mein recipe with Chinese egg noodles stir-fried with chicken, shrimp and vegetables. This is an authentic chow mein noodles recipe in Chinatown style.
INGREDIENTS
8 oz. (226 g) steamed chow mein or fresh chow mein noodles
CHOW MEIN SAUCE:
OTHER INGREDIENTS:
2 tablespoons cooking oil
3 cloves garlic, finely minced
2 oz. (56 g) chicken, cut into thin strips
6 medium-sized shrimp, shelled and deveined
1/2 cup shredded cabbage
1/4 cup shredded carrot
2 stalks scallions, cut into 2-inch strips (5 cm)
INSTRUCTIONS
Soak the chow mein noodles in cold water for about 5 minutes. Rinse a few times until the water turns clear and the noodles have become soft. Drain the excess water and set it aside. (Don't oversoak the noodles or they will become soggy.)
In a small mixing bowl, mix all the ingredients of the Chow Mein Sauce together. Set aside.
Heat up a skillet or wok with the oil. Add in the garlic and stir-fry until light brown or aromatic. Add the chicken and shrimp and stir fry until they are half cooked. Add the shredded cabbage and carrot into the wok and do a few quick stirs. Add the noodles and the soy sauce mixture. Continue to stir fry until the noodles are well combined with the soy sauce mixture and completely cooked through.
Add the chopped scallions, do a few final stirs, dish out and serve hot.
Cook's Tips
For the best chow mein recipe, please follow my tips, techniques and secrets below:
If you use fresh egg noodles, run cold water over the noodles and rinse them before using. This will get rid of the flour on the surface.
Drain the noodles dry using a colander. This will ensure that your noodles are not soggy.
Make the sauce in advance by mixing all the ingredients together.
The best utensil for making Chinese noodles is a well-seasoned Chinese wok and a pair of long wooden chopsticks. You can use a spatula but a pair of chopsticks will loosen up the noodles while stir-frying. This will avoid the noodles from clumping and sticking together.
Be generous with the cooking oil.
Source: rasamalaysia.com
Stay tuned to Mahekta Aanchal from 9 am to 2 pm on Radio Sargam with your Show host Sneh Chaudhry on 103.4FM in Suva to Nausori Corridor, Central Division, Nadi, Lautoka & Labasa, 103.2FM in Sigatoka, Coral Coast, Ba, Vatukoula, Tavua & Savusavu and 103.8FM in Rakiraki.
---
Reader's opinions
---