---
I LOST MY DEATH CERTIFICATE!!!
The world is filled with bizarre stories. Now, believe it or not, a man in Assam issued a newspaper advertisement saying that he has lost his death certificate!
Just to clarify, a death certificate can only be issued when a person dies.
Taking to Twitter, IPS officer Rupin Sharma shared the photo of the advertisement, saying: "This only happens in India"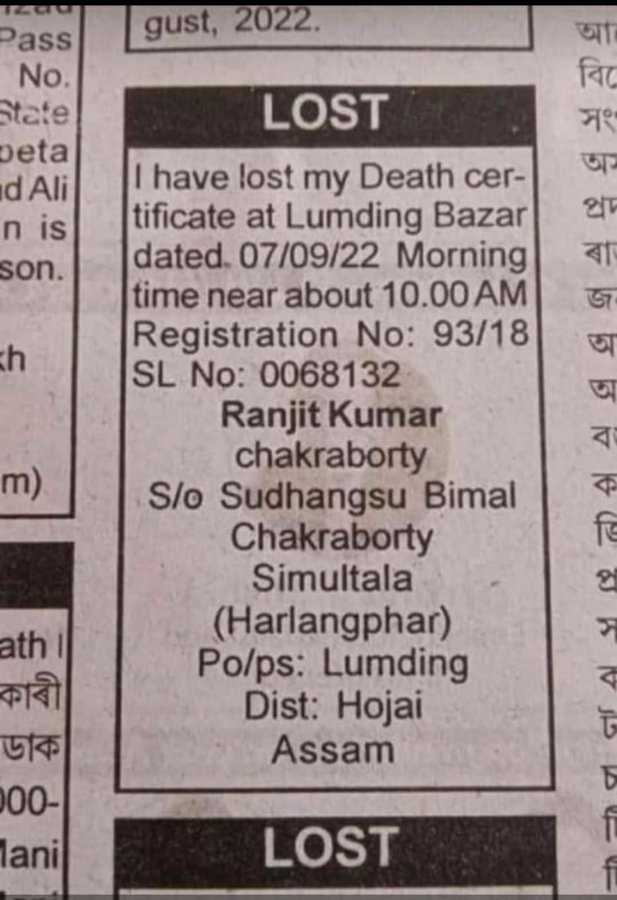 The person identified himself as Ranjit Kumar Chakraborty.
The post has received hundreds of likes.
"If found where the certificate has to be delivered Heaven or Hell?," quipped one user, reacting to the post.
"This is "Ad-bhoot," replied another.
Another Twitter user said: "Someone has lost his own death certificate. If anyone finds it, please return his death certificate to him. Please treat this as urgent – else the ghost will get angry."
"First time someone lost his death certificate," commented another. Many others also agreed with Rupin that such bizarre things can only happen in India.
The post has already been liked by over 500 Twitter users and has been retweeted by many.
---
Reader's opinions
---