---
Kumala (Sweet Potato) Cake Recipe
Written by Sneh Chaudhry on July 27, 2023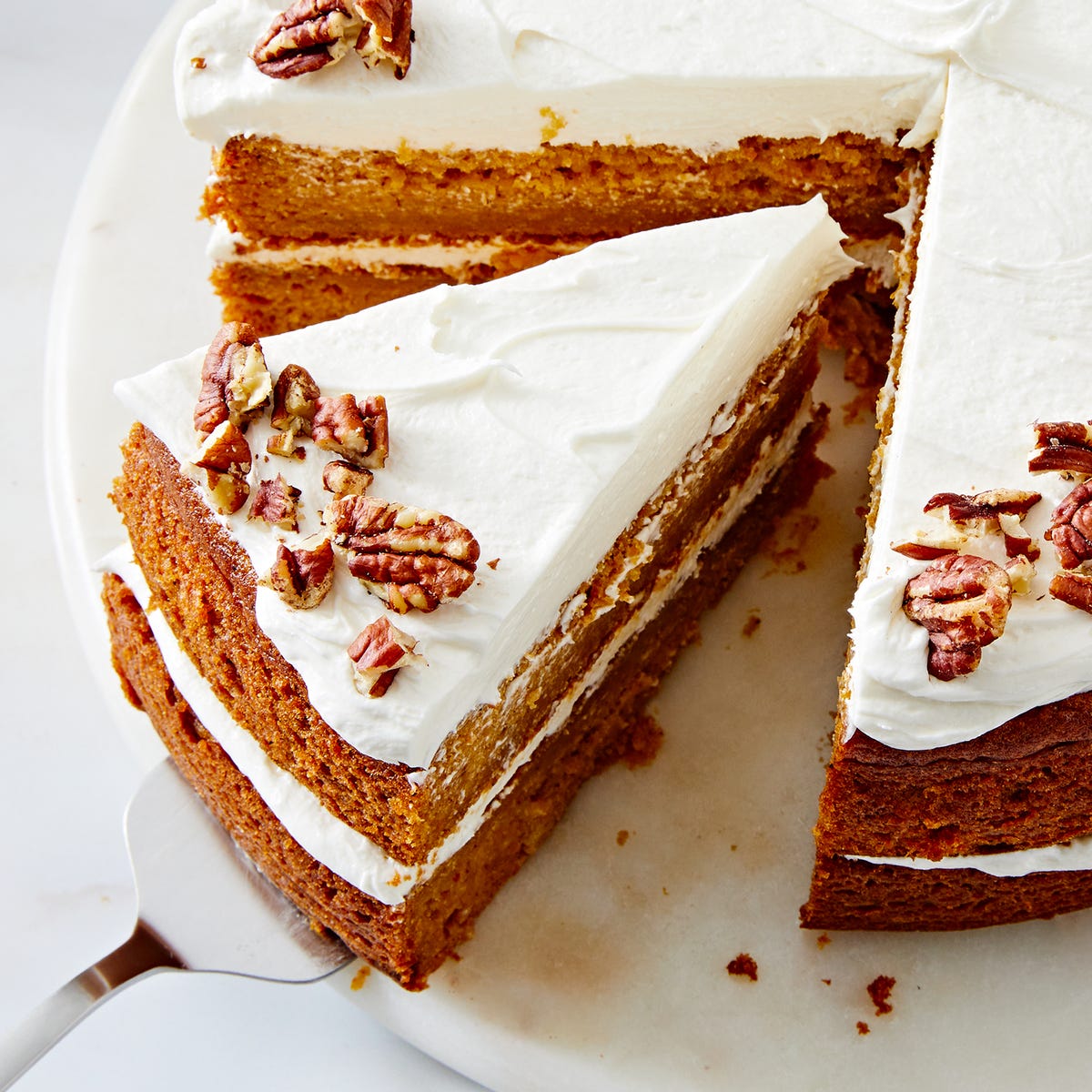 This spiced sweet potato cake is taken truly over the top by a marshmallow fluff-based frosting.
Ingredients
FOR CAKE
2 1/2 cups  – all-purpose flour
2 tsp – baking soda
2 tsp – baking powders
1 tsp – kosher salt
1 tbsp – ground ginger
1/2 tsp – ground cloves
1/4 tsp – ground nutmeg
1 cup – (2 sticks) unsalted butter, softened to room temperature
1 3/4 cup – granulated sugar
1/4 cup – brown sugar
3 large eggs
2 tsp – pure vanilla extract
2 1/2 cups – mashed sweet potatoes
1 cup – buttermilk
FOR FROSTING
1 cup – (2 sticks) unsalted butter, softened
1 (7 oz.) container of marshmallow fluff (about 2 cups)
1/2 tsp – kosher salt
2 cup – powdered sugar
Chopped toasted pecans, for garnish
Preheat oven to 350°, grease 2 9″ cake pans and line the bottoms with parchment paper.

Make cakes: In a large bowl, whisk together flour, baking, soda, baking powder, salt, and spices.

In another large bowl using a hand mixer, cream together butter and sugars until light and fluffy. Beat in eggs one at a time, then beat in vanilla and sweet potatoes until just combined.

Add half the dry ingredients and half the buttermilk and beat on low to combine. Repeat with the remaining dry ingredients and the remaining buttermilk and beat until just combined.

Divide batter evenly between prepared cake pans and bake for 40 to 45 minutes, or until a toothpick inserted into the centre comes out clean. Set aside to cool on a cooling rack while you make your frosting.

Make

the frosting: In a large bowl using a hand mixer, add butter and beat on medium-high speed until smooth. Add marshmallow fluff, salt, and 1/2 cup of powdered sugar and beat until combined. Scrape down the sides of the bowl and continue adding sugar 1/2 cup at a time until the frosting is completely smooth and looks fluffy, 1 to 2 minutes.

Spread one round cake layer with marshmallow frosting, then place the second cake on top of it. Frost the top of the cake, then sprinkle pecans around the outer edge of the top cake.
---
Reader's opinions
---