---
Shah Rukh Khan to shoot for 7 days for Salman Khan starrer Tiger 3 in April in Mumbai
Written by Swaati on March 3, 2023
Aditya Chopra surprised us all by bringing Salman Khan and Shah Rukh Khan together on the big screen for the all-time blockbuster Pathaan. The union of two of the biggest megastars in the history of Indian cinema created mass hysteria for Pathaan as audiences loved their swagger and camaraderie on screen and showered them with abundant love. This move also signalled the birth of the now-fabled YRF Spy Universe with two super-spies, SRK as Pathaan and Salman as Tiger, crossing paths and showing the world that these brutal mercenaries are also great friends in the spy universe's timeline. However, their back story has been kept completely under wraps by YRF so far! Salman indicated in Pathaan that he was going on a deadly mission and that he might need SRK's help and we can now confirm that SRK will shoot for 7 days for a massive action sequence in Tiger 3 that is sure to leave people on the edge of their seats!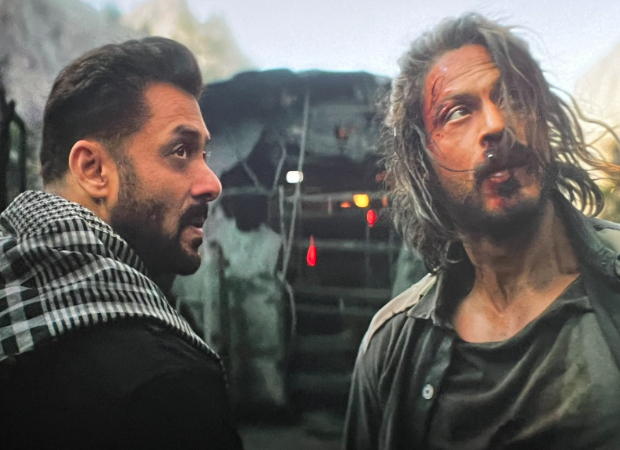 Bollywood Hungama, in February 2023, broke the news that Shah Rukh Khan and Salman Khan will come together for the shoot in April 2023.  The trade source said, "Watch out for Pathaan's entry in Tiger 3! As the super-spies start crossing over in each other's films, which are part of the blockbuster YRF Spy Universe, expect twists and surprises that deliver outstanding entertainment value to audiences in theatres!"
The source added, "Shah Rukh will shoot for Tiger 3 by end-April and the shoot is expected to be in Mumbai. Details of this shoot are being kept completely under wraps but expect fireworks when the two super spies meet again in Tiger 3. Salman told SRK in Pathaan that he was going on an important mission so Pathaan will meet Tiger during this mission."
Now, SRK will shoot towards the end of April 2023. "Expect the unexpected when Pathaan and Tiger meet in the next instalment of YRF's Spy Universe film Tiger 3! Audiences have seen and loved SRK & Salman together in Pathaan and they will be thrilled to find out what Aditya Chopra and director Maneesh Sharma have in mind for Pathaan and Tiger to meet again in Tiger 3! SRK is going to shoot for 7 days for Tiger 3 at the end of April in Mumbai and it is going to be an adrenaline-pumping one for the actor," informs the trade source.
"The fact that 7 days have been earmarked to shoot this sequence means that extensive plans have been made to make this a visual delight for audiences! The expectations are sky-high after what people have seen in Pathaan and the makers are very aware of this. So, one should take it for granted that YRF and Maneesh Sharma are not going to leave any stone unturned to make this scene between Pathaan and Tiger a sequence to remember in Indian cinema!" the source adds.
"Expect full swagger from SRK and Salman in Tiger 3. They are going to go all out to give audiences a sequence that they will fondly cherish for their lives. YRF Spy Universe is only going to take the theatrical experience of every film up by a few notches. While each film will have different emotions given how the personalities and story arcs of the three super spies have been designed differently, one can be rest assured that when the super-spies cross over to each other's films, there will be fireworks every single time. Here are the biggest megastars of Indian cinema doing action like never seen before in their unique styles – it is going to be epic!" says the source.
Tiger 3 starring Salman Khan, Katrina Kaif as Zoya & Emraan Hashmi as Tiger's nemesis is set to release this Diwali!
Source: Bollywood hungama
---
Reader's opinions
---