---
War Reaches Ukraine Capital's Streets As Russia Vetoes UN Vote: 10 Facts
Written by Roneel Narayan on February 27, 2022
Russia-Ukraine crisis: US and Ukrainian officials say Russia aims to capture Kyiv and topple the government.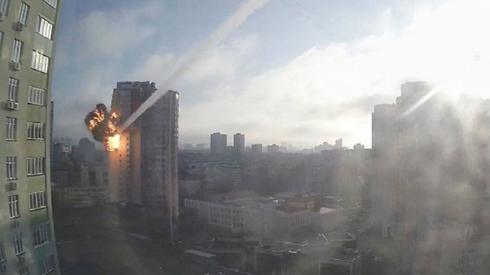 The Russian and Ukrainian governments on Friday signalled an openness to negotiations even as a UN security action was blocked by Moscow as expected and authorities in Kyiv urged citizens to help defend the capital from advancing Russian forces.
Here are the top 10 updates on this big story:
As Russian forces closed in on Ukraine's capital Kyiv, President Volodymyr Zelensky tweeted that he has spoken to French President Emmanuel Macron and that "weapons from our partners" are on their way to Ukraine. "A new day on the diplomatic frontline began with a conversation with @EmmanuelMacron. Weapons and equipment from our partners are on the way to Ukraine. The anti-war coalition is working!" he tweeted.
Ukraine and Russia are discussing a place and time for talks, Ukrainian President Volodymyr Zelenskiy's spokesman Sergii Nykyforov said on social media hours after Russian President Vladimir Putin urged Ukraine's military to overthrow its political leaders and negotiate peace.
The Kremlin said earlier on Friday it had offered to meet with Ukrainian officials in the Belarusian capital Minsk, but that Ukraine had instead proposed Warsaw as a venue, resulting in a "pause" in contacts. "Ukraine was and remains ready to talk about a ceasefire and peace," Nykyforov said.
US State Department spokesman Ned Price, however, said Russia's offer of talks was an attempt to conduct diplomacy "at the barrel of a gun", and that President Vladimir Putin's military must stop bombing Ukraine if it was serious about negotiations.
Russia and the West also traded barbs over sanctions with Moscow slamming the "impotence" of fresh financial curbs against Vladimir Putin promised by the European Union and the US.
Russia vetoed a draft UN Security Council resolution that would have deplored Moscow's invasion of Ukraine, while India, China and UAE abstained from the vote – a move western countries view as a win for showing Russia's international isolation.
Earlier, in stark contrast to the overtures, Putin had said in a televised address: "I once again appeal to the military personnel of the armed forces of Ukraine: do not allow neo-Nazis and (Ukrainian radical nationalists) to use your children, wives and elders as human shields… Take power into your own hands, it will be easier for us to reach an agreement."
Moscow said it had captured the Hostomel airfield northwest of the capital – a potential staging post for an assault on Kyiv that has been fought over since Russian paratroopers landed there in the first hours of the war. This could not be confirmed and the Ukrainian authorities reported heavy fighting there.
Kyiv Mayor Vitali Klitschko said an assault on the city of 3 million was already underway. "Shots and explosions are ringing out in some neighbourhoods. Saboteurs have already entered Kyiv… The enemy wants to put the capital on its knees and destroy us."  Ukraine's army said in a Facebook post that it had repelled a Russian attack on one of Kyiv's main avenues.
Ukraine said more than 1,000 Russian soldiers had been killed so far. Russia did not release casualty figures. The U.N. said 25 civilians had been killed and 102 wounded, figures that were likely to be a "significant under-estimate". None of the tolls could be independently verified.
---
Reader's opinions
---